Headteacher's Welcome
Welcome back to school and a very special welcome to our new reception pupils and new pupils joining us across the school. We are so excited about the year ahead. The diary is already filling up with lots of exciting learning and projects. Please keep a close eye on our school diary (found here) for events.
Thank you for your continued support
Mrs. Rubel
School developments this year
We are excited to share with you the focus for our school's development this year. As a school we will be working on:
Developing our lunchtime play. We will be engaging in a project called OPAL Play. More information can be found here and more information will be shared throughout the year including with a parents' information meeting in the autumn. We are really excited to be developing the breaktime and lunchtime provision for our wonderful children at Hambrook. Our aim is to provide increased enjoyment, activities, inclusion and learning for all of our pupils.
Becoming a Forest School. We are excited to be launching a new project to become a Forest School. To do this we have recruited a new member of our staff team to train as a Forest School leader and (beginning later in the year) she will lead Forest School lessons across the school. We will be working hard to develop our Nature Garden and outdoor grounds alongside our fantastic group of volunteer parents to facilitate this. The Forest School approach aims to promote the development of all involved, fostering resilient, confident, independent and creative learners.
School trip/residential costs
We understand the need to plan ahead for expected costs. To support families we have published below estimated costs of our school trips this year and when we expect these to take place. These may change slightly but hope they give parents/carers an indication of costs.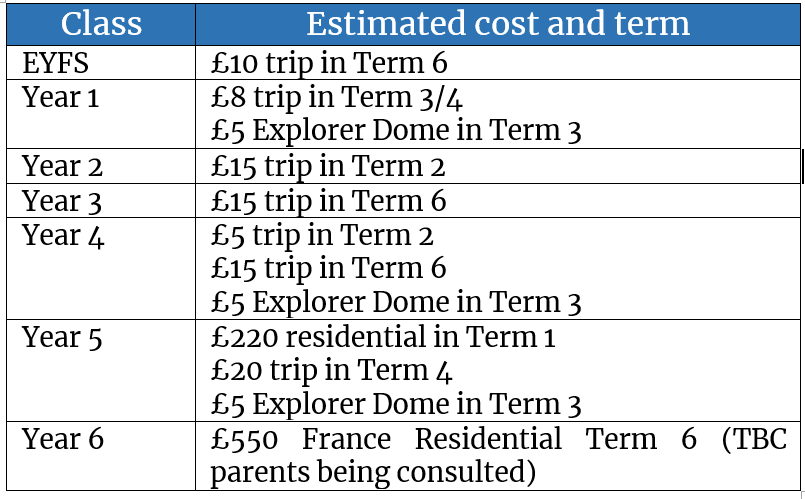 From September 2023, Year 5 and Year 6 residential trips will return to the Autumn Term (terms 1 and 2).
Healthy school
A polite reminder about breaktime snacks. As a healthy school we only allow fruit, vegetable or other healthy snacks at breaktime e.g. cheese and crackers. We do not allow crisps, chocolate, sweets or nuts. Thank you for your support.
Please can we ask all parents/carers to take care when driving around our school and park safely. Please use parking around the common and walk to the school gates, dropping off children by our gates is dangerous and puts our children at risk. We now have our new safely bollards to remind everyone not to drop off but instead park and walk.
We have had a number of complaints from local residents about parking across driveways and turning in residents drives. Please can we ask everyone to be considerate of our neighbours, thank you.
Welcome to the classroom meetings
Welcome to the classroom meetings are happening next week. These meetings are virtual and links have been sent out. If you have not received a link please contact the school office.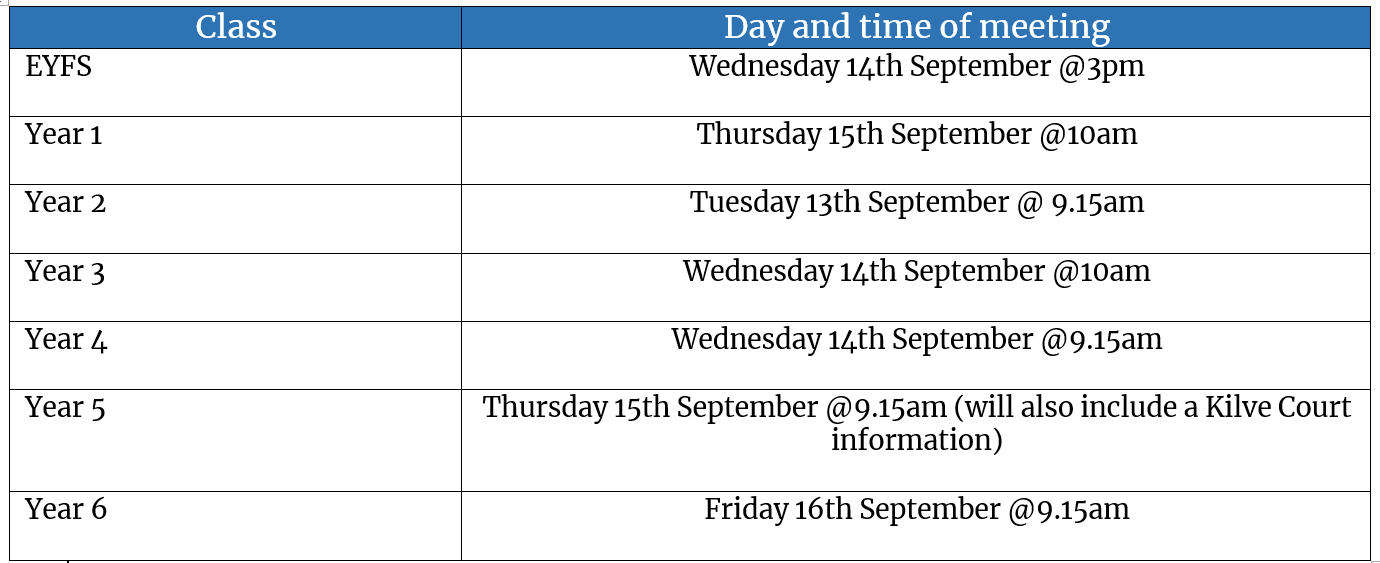 Parents' Evenings Term 2
Parents' Evenings will be happening on Wednesday 23rd November and Thursday 24th November 3.30-6.10pm. Parents evenings will happen in person in our school hall. Links to book a slot will be sent out nearer the time.
Harvest Festival
We are pleased to be again collecting Harvest Festival food donations. All donations collected will be given to the Bristol North West Foodbank. We will be collecting donations from Friday 14th October until Wednesday 19th October. Thank you for your support for this much needed cause.
Big thank you!
We would like to say a big thank you to the wonderful parents and carers volunteering to develop our Nature Garden. Your support is deeply appreciated.
INSET Days 2022-23
Our INSET days this academic year are:
Thursday 20th October
Friday 21st October
Monday 31st October
Friday 16th December
Friday 21st July
School Gates
Thank you for your support with our new gate times.
Mornings
Gates open at 8.40am and close promptly at 8.50am. Anyone arriving after 8.50am will be marked as late and will need to enter through the school office.
Afternoons
Our afternoon gate opens at 3.15pm and closes at 3.30pm
School Office Opening Hours
From September our school office will be open from 8.15am-4.00pm everyday.
Reception Class September 2023.
Is your child due to start school in September 2023? We warmly welcome parents/carers to come and visit our fantastic school. Please see details below on how to book onto a tour.
Follow us on social media to see the fantastic learning happening at Hambrook
Twitter @HambrookSchool
Facebook @HambrookPrimary
Reception Class September 2023. Is your child due to start school in September 2023? We warmly welcome parents/carers to come and visit our fantastic school. Please see details below on how to book onto a tour.

https://t.co/mnhvUnvHrk

1 day ago

Follow
#hambrook4 have been doing lots of of predicting in writing today. We started watching "The Dreamgiver" and acted out what could happen next. It's safe to say we have a few actors and actresses in the class #drama

https://t.co/uAqOXcxuY6

2 days ago

Follow
It has been a fabulous start in #hambrook 4. Last week, in teams, we built marshmallow towers and started creating our own dream jars! Mrs Stace, Mrs Gale and the class had the best few days

https://t.co/3YOQuhgDok

2 days ago

Follow
Amazing effort from our #Hambrook5 and #Hambrook6 gymnasts at the

@Bristol_Sport

gymnastics competition yesterday. Gold and outright winners! Well done everyone! Huge thanks to Lara too for her work in preparing our gymnasts!

https://t.co/wqLcrEH17F

1 month ago

Follow
As part of our Maths topic on measurement #Hambrook3 have been investigating capacity with a water race! We had to measure which animal team was able to keep hold of the most water! We only got a little bit wet!

https://t.co/Miars3pkdb

2 months ago

Follow